Welcome to Jamieson Furniture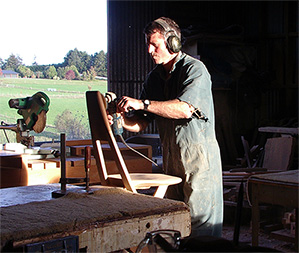 I am Doug Jamieson, the owner operator of Jamieson Furniture. My workshop is situated in the picturesque and rural setting of Waipu. I have been making hand crafted furniture since 1994 and have designed and built hundreds of unique items for satisfied customers in the Auckland and Waikato regions. My furniture is functional, durable and stands out as a feature in any living space - indoors or outdoors.
I can source most timber types, including:
Recycled native timbers
Rimu
Swamp Kauri
Macrocarpa
Pine
This website hopes to give you an idea of what I make and the service I can provide. While it is difficult to give a fixed price before discussing requirements, an effort has been made to give price ranges for most of the displayed products. Costs will depend on the choice of timber, design specifications, the finish required and the size of the order. I am able to meet the needs of individuals as well as provide larger orders for business clients. Furniture I have made over the past decade can be found in family homes, conference areas, restaurants, cafes and bars.
International clients: I can ship furniture orders overseas. Please contact me directly to discuss your needs.